2nd Dec 2016
IoC Director Announces Winner of 2017 Stockholm Prize in Criminology
Cambridge Institute of Criminology Director Lawrence W. Sherman has announced that Professor Richard E. Tremblay of the Universite de Montreal is the winner of the 2017 Stockholm Prize in Criminology. Professor Tremblay's work, spanning four decades and more than 500 publications, began in Montreal and continues today in Paris and Dublin. In a life of pioneering scholarship, he has developed basic science connections between biological, family and social factors in human development and combined this research with rigorous tests of policies that may alter these factors to reduce crime and violence. For further information please visit the Stockholm Prize in Criminology website.
Professor Sherman made the announcement via video-link from Australia at 2 minutes 17 seconds into the video on the Prize website, which begins with welcoming remarks in Swedish. Sherman's detailed explanation of the scientific basis of the Prize is then followed by a live interview with Prize-Winner Tremblay, conducted by Professor Jerzy Sarnecki of the University of Stockholm, the co-chair with Professor Sherman of the International Prize Jury.
---
2nd Dec 2016
System failing to prevent deaths post-detention
Poor access to health care and confusion over post-detention care may have contributed to more than 400 deaths following police custody and prison detention since 2009, a new report has claimed.
See more: Here
---
10th Nov 2016
The Criminology course opening the door to education for prisoners
The success of the University of Cambridge's criminology course for students and prison inmates has spawned a flurry of similar initiatives
See more: Here
---
1st Nov 2016
Cambridge Police Course Alumna Heads Oxford College
Former Cambridge Police Executive Programme student Helen King is retiring from her role as Assistant Commissioner with the Metropolitan Police Service to become Principal of St Anne's College at Oxford University.
She is the first police officer to become head of an Oxbridge College.
See more: http://news.met.police.uk/news/assistant-commissioner-helen-king-retires-from-met-193964
---
30th Sept 2016
Police body cameras 'cut complaints against officers'
Police body cameras can dramatically reduce the number of complaints against officers, research suggests. The Cambridge University study showed complaints by members of the public against officers fell by 93% over 12 months compared with the year before. Almost 2,000 officers across four UK forces and two US police departments were monitored for the project. Dr Barak Ariel, who led the research, said no other policing measure had led to such "radical" changes. The findings, published in the journal Criminal Justice and Behaviour, showed there were 113 complaints made against officers during the year trial period, compared with 1,539 in the 12 months before - a reduction of 93%
For the full article please Click Here
Further articles of interest can be found Here and Here
---
31st Aug 2016
Professors Alison Liebling and Anthony Bottoms Appear on Radio 4 Special
---
2
4
Jun
2016
Public Engagement Award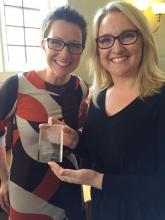 Drs Amy Ludlow and Ruth Armstrong have received an award from the Vice-Chancellor of the University of Cambridge in recognition of their excellent work in public engagement. Using criminological, educational and sociological research they have designed and delivered an innovative educational initiative called Learning Together whereby students from universities and prisons study together and form learning communities within the prison environment.
They have worked collaboratively with their students to design an innovative methodological approach to understanding the contours and impacts of Learning Together. Through writing blogs, tweeting, hosting events, and producing a film, they have broadly communicated the early findings of their pilot study and encouraged and supported many other universities and prisons to form Learning Together partnerships. They are grateful to all of their students, course mentors, facilitators, and many colleagues from the Institute of Criminology and the Faculty of Law who have participated in Learning Together, and the support of the Centre for Community Gender and Social Justice in the Institute of Criminology.
26
Apr
2016
Inside information: Students and prisoners study together in course that reveals the power of collaborative education. Also reported in The Times.