The Nigel Walker Lecture series was inaugurated in 1997, and is named in honour of the Institute's second Director, Nigel Walker, who served as Wolfson Professor of Criminology from 1973 to 1984. This is an annual lecture given by an eminent criminologist.
---
The Nigel Walker Lecture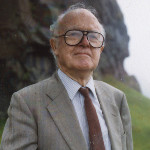 Nigel Walker, who died on 13 September 2014, was the second Wolfson Professor of Criminology (1973-1984) at the University of Cambridge, and a Fellow of King's College; he was also Director of the Institute of Criminology from 1973-1981. Prior to coming to Cambridge he was Reader in Criminology in the University of Oxford and a Fellow of Nuffield College (1961- 1973); in Oxford he also founded the Penal Research Unit (now the Centre for Criminology).
Nigel Walker was a key figure in the development of criminology as an academic discipline in the United Kingdom. He also made distinguished research contributions, particularly in the fields of sentencing and of policy for mentally disordered offenders; and he is remembered by many former students as an outstanding teacher.
---
2020

This lecture was cancelled due to Covid-19 restrictions

2019

Dr Claudia García-Moreno  

Understanding and Addressing Violence Against Women as a Public Health Problem

View the lecture

View the slides


2018

Creating More Peaceful Societies: Global Strategies to reduce Interpersonal Violence by 50% in 2040

View the lecture

2017

Professor Candace Kruttschnitt

Challenging a Gender Response Approach to Female Offending: Does the Empirical Research Bear Out this Perspective?

View the lecture

2016

Professor John Braithwaite

Restorative Justice: Niches in War Prevention, Crime Prevention

2015

Professor Peter Reuter

Drug Policy and the Public Good: Legalization and its Limits

View the lecture

2014

Professor Adrian Raine

The Biological Roots of Crime: Implications for Society and Criminology

View the lecture

2013

Professor Susanne Karstedt

Global Hot Spots of Violence: Exploring the Paradox of State Strength and Weakness

View the lecture

2012

Breaking Rules: Exploring and explaining the causes of young people's crime

2011

Professor Richard E. Tremblay

Origins, Development and Prevention of Chronic Physical Aggression: From Criminology to Obstetrics and Epigenetics

2010

Distinctions and Distinctiveness in the Work of Prison Officers: Legitimacy and Authority Revisited

2009

Professor Robert Sampson

The Immigration & Diversity Debate: Insight from Criminology

2007

Developmental Prevention and Offender Treatment: What Does the Evidence Show?

2006

The Development of Offending and Antisocial Behaviour from Childhood to Adulthood

2005

Professor Nicola Lacey

The Criminal Jurisprudence of H.L.A. Hart

2004

Professor Franklin Zimring

Toward a Comparative Law and Criminology of Corruption

2003

Penalising Offensive Behaviour

2002

Professor Andrew Ashworth

Reassessing Robbery

2001

Professor Anthony Duff

Crime, Prohibition, and Punishment

2000

Professor Michael Tonry

Interactions between Crime Rates and Criminal Policies across Space and Time

1999

Criminology and the Problem of Order

1998

Professor Stanley Cohen

The Sociology of Denial: Knowing about Atrocities and Suffering

1997

Professor David Garland

'Governmentality' and the Problem of Crime: Foucault, Criminology, Sociology