Ruth Armstrong is the Co-Director of Learning Together at the University of Cambridge and a Senior Research Associate at the Institute of Criminology. After graduating with First Class Honours in Law and American Law from the University of Nottingham, Ruth worked as a lawyer in Mexico and then returned to the UK to work for the Government in law reform, as part of the criminal law team at the Law Commission. She completed her masters and PhD at the Institute of Criminology, University of Cambridge, and was awarded the 2013 Nigel Walker Prize recognising her PhD as an outstanding contribution to the written field of criminology. Since 2013 she has attracted research funding and fellowships from the British Academy, the Economic and Social Research Council, St. John's College and the University of Cambridge. In 2016 she was awarded the Prisoner Learning Alliance 'Outstanding Individual Award' and together with her Co-Director of Learning Together, Dr Amy Ludlow, was awarded the prestigious Butler Trust Award for outstanding dedication, creativity and skill in work for the benefit of people in prison and in the community. Their work has also received the Keith Bromley Award for Education and Skills training in prisons and the inaugural University of Cambridge Vice Chancellor's award for Impact with research.
Ruth's academic interests lie in the individual, institutional and social contours of change. She has studied these processes through exploring the role of faith and faith communities in life after prison in the USA, through a study on trust and faith in high security prisons in England and more recently through the British Academy funded action research initiative Learning Together. This initiative has attracted funding from the Ministry of Justice to support the growing national network of Learning Together partnerships between universities and prisons. Learning Together also works collaboratively with prison and university partnerships in the USA, Latin America, Australia, South Africa and Western and Eastern Europe towards understanding the cultural contours of transformative learning. For more information on Learning Together, to get involved or to start a partnership from your university or prison please contact justis@crim.cam.ac.uk.
Ruth's teaching focuses on aspects of desistance theory, processes of change, criminal law, sentencing and the penal system. In addition to directing Learning Together, she currently teaches on the M.St in Applied Criminology, Penology and Management. Ruth is committed to communicating the findings of research to academic and general public audiences. She has produced several films about the findings of her research and appeared as a guest on television and radio. Ruth is a trustee of the Welcome Directory and is on the advisory board of Community Led Initiatives.
Key publications:
Publications
Ludlow, A., Armstrong, R. and Bartels, L. 'Theory, reflexivity and localism in prison and university learning partnerships' (forthcoming, Journal of Prison Education and Reentry, 2018).
Evans, G., Price, E., Ludlow, A., Armstrong, R., and Maruna, S. with Reed, J. (2017) 'Spending time on death row' in H. Toch, J. Acker and V. Bonventre (eds.) Living on Death Row (American Psychological Association: New York).
Armstrong, R. and Durnescu, I. (eds) (2017) Parole and Beyond: International Perspectives of Life on Parole, London: Palgrave Macmillan.
Halsey, M., Armstrong, R. and Wright, S. (forthcoming, 2016) '"F*ck it": Matza and the Mood of Fatalism in the Desistance Process', British Journal of Criminology.
Armstrong, R. and Durnescu, I. (eds) (forthcoming, 2016) Curtailed Freedom: International Perspectives of Life on Parole, London: Palgrave Macmillan.
Armstrong, R. and Ludlow, A. (forthcoming, 2016) 'Educational Partnerships Between Universities and Prisons: How Learning Together can be Individually, Socially and Institutionally Transformative' Prison Service Journal.
Armstrong, R. and Maruna, S. (2016) 'Examining Imprisonment through a Social Justice Lens' in What Is Justice: Reimagining Penal Policy, Eds. Steven Farrall, Barry Goldson, Ian Loader and Anita Dockley, London: Routledge.
Armstrong, R. (2014) 'Transforming Rehabilitation: Can faith-communities help to reduce reoffending?' in Prison Service Journal, no. 216: 3-12.
Armstrong, R., Crewe, B. and Gelsthorpe, L., (2014). 'From paper ethics to real world research: supervising risk in research with the 'risky'', in Reflexivity in Criminological Research: Experiences with the powerful and the powerless', Eds. Karen Lumsden and Aaron Winter, London: Palgrave.
Armstrong, R., (2014). 'Trusting Imperfection: The theology, practice and implications of faith-based volunteers' work with ex-prisoners', Studies in Christian Ethics, 27(3).
Armstrong, R. (2014) 'Transforming Rehabilitation: Can faith-communities help to reduce reoffending?' Prison Service Journal (Nov, 2014) (216) at p 3-12.
Trusting the Untrustworthy: The Theology, Practice and Implications of Faith-Based Volunteers' Work with Ex-Prisoners, Studies in Christian Ethics August 2014 vol. 27 no. 3 299-309
From Paper Ethics to Real World Research: Supervising Ethical Reflexivity When Taking Risks in Research with 'The Risky'; Ruth Armstrong, Loraine Gelsthorpe and Ben Crewe in Reflexivity in Criminological Research Experiences with the Powerful and the Powerless edited by Karen Lumsden, Aaron Winter, September 2014, Palgrave Macmillan
Jogging With Jody: After prison can you build a life on your own?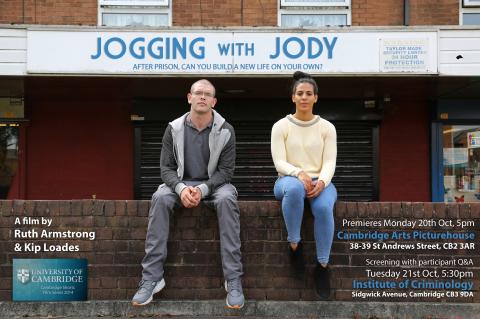 This new short documentary tells the story of the first year of one man's life after prison. Josh has served numerous prison sentences, the last of which was an 8 year sentence extended for public protection. He is registered as a priority prolific offender. The police advised his probation officer that she would probably recall him within 3 hours of release from prison. This is his story of the ups and downs of life after prison, how he started to work with a volunteer mentor, Jody, and how the trust they built helped him to be honest about his present and hopeful for his future.
The short film premieres at the Cambridge Arts Picture House at 5pm on Monday 20th October (through the Festival of Ideas) as one of five 'Cambridge Shorts' productions, communicating early academics' research findings in innovative ways through film.
On Tuesday 21st October at 5.30pm it will be shown at the Institute of Criminology, Cambridge. This showing will include a companion film: reflections on film one from leading academics in desistance and from the directors of Community Led Initiatives (the volunteer mentor organisation). Film two explains the aspects of Josh's story that are common themes in desistance research. It shows how Community Led Initiatives train volunteers in mentoring that works alongside probation to support desistance and the important work of the local council in providing employment opportunities. After the showing there will be a Q&A with a panel including Josh, Jody, CLI Directors Peter Atherton and Matthew Kidd, leading desistance scholar Professor Sir Anthony Bottoms and filmmaker Kip Loads. There will be wine and nibbles to follow and the chance for more informal chats.
Films and Media
Leaving Prison in Faith
Part One: Hopes
Dr Ruth Armstrong meets a Christian man and a Muslim man as they prepare to leave HMPYOI Feltham in London and a Christian woman and a Muslim woman as they prepare to leave HMPYOI Styal. In these films you meet the four protagonists of the films in their prison cells and hear of their hopes for themselves, their faith and the role of faith communities outside the prison as they face the prospect of release.
Part Two: Connections
In this second film Dr Ruth Armstrong looks at the work of chaplaincy teams in prisons trying to connect with faith communities outside of the prison to support four people who are about to leave prison. We return to the four people we met in the first film, a Christian man and a Muslim man in HMPYOI Feltham and a Christian and Muslim woman in HMPYOI Styal, and think about the connections they are building while inside that might be able to support them post release. In Feltham we hear the prison chaplains discussing some of the difficulties involved in sustaining positive relationships through the gate, and we meet a young Muslim woman working as a mentor for one man in the film. In Styal we follow one prisoner as she leaves prison for the day to go to work and meet up with a pastor of a church. The film encourages us to think about the role of connections pre-release to a smoother path post-release.
Part Three: Community
In this final film of the trilogy, we return to find out what has happened to the Christian and Muslim men and women we first met in HMPYOI Feltham and HMPYOI Styal now that they are no longer in prison. We hear about some of the struggles they have faced since release from prison. We consider the role that faith communities have played in their journeys out of prison, and think about whether it could be possible for faith communities to work more effectively with chaplaincy teams to support people through the gate.