Welcome to Cambridge
This Course webpage has been designed to provide you with essential information about the MSt in Applied Criminology and Police Management (Police Executive Programme), which can be accessed by clicking on the tabs below. Our latest brochure can be downloaded here.
Year One
| | |
| --- | --- |
| Block A   | Monday 27 March - Thursday 6 April |
| Block B | Monday 3 July - Friday 14 July |
| Block C | Monday 4 September - Friday 15 September |
Year Two
| | |
| --- | --- |
| Block D   | Monday 3 April - Friday 14 April |
| Block E | Monday 10 July - Friday 21 July  |
| Block F | Monday 11 September - Friday 22 September |
Year One
| | |
| --- | --- |
| Block A   | Tuesday 2 April - Friday 12 April |
| Block B | Monday 15 July - Friday 26 July |
| Block C | Monday 02 September - Friday 13 September |
Year Two
| | |
| --- | --- |
| Block D   | Monday 25 March  - Friday 5 April |
| Block E | Monday 8 July - Friday 19 July |
| Block F | Monday 9 September - Friday 20 September |
Fees: The total charge for this course is £31,000* (charged at £15,500 per annum)
* The £31,000 covers the University composition fee (£16,996) and Extra costs of £14,004 which include; mandatory residential teaching blocks and other supplementary costs.
---
The application portal for 2024 is now live.
Please note the closing date for applications is 11 January 2024.
---
Funding Opportunities
The Institute has a limited number of studentships that MSt students can apply for. Details and application deadlines can be found on the Funding Opportunities webpage.
---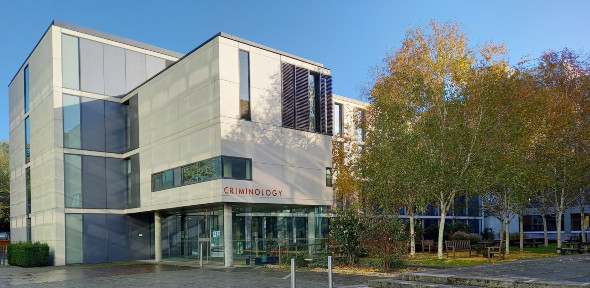 ---
The Course Aims and Objectives
The Cambridge Police Executive Programme (MSt in Applied Criminology and Police Management) is a two year part-time course which offers a globally relevant framework for preserving and enhancing democratic policing in the face of international challenges through developing senior leaders in policing, law enforcement and associated organisations. Our commitment to precision in targeting, testing and tracking police intrusions on public liberty using the best empirical and statistical evidence available provides a key tool for the kind of public "dialogic" strategy for maintaining police legitimacy developed at Cambridge. Our theoretical and empirical development of the concept of residual general deterrence provides the basis for refuting claims that police can be abolished without major increases in violent crime.
For all our mid-career students (all police leaders or analysts from around the UK and world) enrolled on our part-time MSt Degree course, it offers an intellectual foundation for both police reform and public support.
---
Four 'Intellectual Pillars' for Police Leaders
This MSt course is underpinned by several key concepts, including: Targeting resources, Testing practices, and Tracking delivery of services.
The course helps students learn through continuing professional development, collaborative study, small group discussions, critical thinking and reflective practice. Participants on the course are encouraged to 'reflect on, review and analyse past, current and future practice', as part of what Professor Lawrence Sherman described as the 'future of policing research'.
1) Matching police interventions with proportionately harmful risks.
2) Measuring harm systematically with a Crime Harm Index.
3) Deciding how to make decisions using the "Triple-T" of targeting, testing & tracking as the basis of achieving a fourth "T" of Transformation, and
4) Professionalizing police practice through the training of pracademics (Practitioner-academics) who will create, apply and promote the use of research to provide better evidence for decision-making and to deliver better management and leadership of their agencies. 
These pillars frame our commitment to democratic policing, sustaining the rule of law, safeguarding and protecting the vulnerable and prevent.
---
The Course Structure
Teaching Blocks:
There are three teaching blocks in the first year:
Block A (March/April)
Block B (July)
Block C (September)
The residential teaching blocks incorporate four key modules: Criminological Theory, Evidence-Based Policing, Leadership and Management, and Research Methods.  The modules cover a range of topics and use a range of delivery styles including seminars, lectures, symposia, practical exercises and project work.
Reading Lists:
Reading Lists are provided prior to each teaching block, giving required and suggested further reading.
Personal Supervisor:
Students are allocated a personal supervisor with whom they can discuss any aspect of the course (essay choice, dissertation topic, time management, sources of information, academic development and support) on a one-to-one basis. Independent study time is incorporated into the teaching blocks.
In the second year, supervision may pass to another member of staff who is better suited to supervise the dissertation topic and in some cases a separate subject-specific dissertation advisor may also be allocated to work alongside the supervisor.
Library Facilities:
Students have access to college library facilities as well as the Radzinowicz (Institute of Criminology), Squire Law Library (Faculty of Law), the Cambridge Judge Business School and University Library.
Other Resources:
Student support materials are also available via a virtual learning environment (VLE): Moodle.
Students who only complete one year:
Students who successfully undertake only one year of study, rather than proceeding to the Master's year, will be awarded the Postgraduate Certificate in Applied Criminology and Police Management.
---
Teaching Staff
Dr Peter Neyroud C.B.E., QPM, is the Director of the Police Executive Programme and an Associate Professor in Evidence-Based Policing.  He is a former Chief Constable of one of the largest UK forces, Thames Valley (2002-7) and founding Chief Constable of the National Policing Improvement Agency (2007-2011), which he recommended in an Independent Report commissioned by the Home Secretary be converted into the current College of Policing.  From 2011-2014 he was the Director of the Birmingham Turning Point Project, a randomised controlled trial testing the effect of deferred prosecutions on 400 first offenders randomly assigned to be offered immediate rehabilitation programs within hours of arrest, or to standard prosecution.  He completed his PhD at the Cambridge Institute of Criminology in 2017. He is the Co-Chair of the Campbell Collaboration Coordinating Group on Crime and Justice.
Dr Matthew Bland
is an Associate Professor in Evidence Based Policing and Fellow of the Jerry Lee Centre of Experimental Criminology. He is also the Deputy Director of the Police Executive Programme. He has published books on crime analysis, experimental research designs and domestic abuse and is actively engaged in a variety of research projects.  He is the Trial Director for the Ministry of Justice's domestic abuse polygraph pilot and was appointed by the Policing Minister to be the Independent Chairperson for the Technical Reference Group responsible for revising the police funding allocation formula.  Until 2018 he was Head of Strategic Analysis for Norfolk and Suffolk Constabularies, and worked as a police staff member for 15 years.  Dr Bland gained his PhD from the University of Cambridge Institute of Criminology and is a former graduate of the Police Executive Programme.  Forecasting, domestic abuse and analysis of police recorded crime are among his research interests.
Professor Lawrence Sherman is Emeritus Wolfson Professor of Criminology.  He was the Director of the Cambridge Police Executive Programme.  He earned his PhD from Yale University, and has been awarded honorary doctorates from the University of Stockholm and Denison University.
His research interests are in the fields of crime prevention, evidence-based policy, restorative justice, police practices and experimental criminology.  He has conducted field experiments, for example, on finding more effective ways to reduce homicide, gun violence, domestic violence, robbery, burglary, and other crime problems, in collaboration with such agencies as the Metropolitan, Northumbria and Thames Valley Police, London's Crown Courts, HM Prisons, the Crown Prosecution Service, the Youth Justice Board of England and Wales, and the National Probation Service, as well as 30 US police agencies and the Australian Federal Police.
Professor Sherman has served as president of the American Society of Criminology, the International Society of Criminology, the American Academy of Political and Social Science, and the Academy of Experimental Criminology.  He has worked on several projects of the (US) National Academy of Sciences, and as a consultant to the FBI, the (UK) Home Office and Youth Justice Board, the Swedish Ministry of Justice, the (US) National Institute of Justice, the New York City Police Department, the National Police Agency of Japan, the Korean Institute of Criminology, the Justice Ministry of Lower Saxony, and many other agencies.
The author, co-author or editor of 9 books and over 100 book chapters and journal articles, Professor Sherman has received the American Society of Criminology's Edwin Sutherland Award; the Academy of Experimental Criminology's Joan McCord Award; the American Sociological Association's Award for Distinguished Scholarship in Crime, Law and Deviance; the Academy of Criminal Justice Sciences' Bruce Smith Jr. Award; and the Campbell Collaboration's Robert Boruch Award.  Professor Sherman has also received the Benjamin Franklin Medal of the Royal Society for the Arts in London and is the founding co-chair of the International Jury for the Stockholm Prize in Criminology.
Dr Heather Strang is Director of the Jerry Lee Centre of Experimental Criminology at the Institute of Criminology and was previously Director of the Police Executive Programme.  Internationally recognized for her British and Australian experiments in police-led restorative justice conferences, she was Director of the Centre for Restorative Justice at the Australian National University, where she gained her PhD in Criminology.  Prior to that she was Executive Research Officer at the Australian Institute of Criminology, where she founded the Australian national reporting system for homicide after serving on the research staff of the Australian National Committee on Violence.  Her research interests include the effects of crime and justice on victims of crime, the diversion of cases from prosecution to alternative disposals, restorative justice conferences as both a supplement to and diversion from prosecution, police responses to domestic violence, and the management of randomized controlled experiments in criminology.  Elected a Fellow of the Academy of Experimental Criminology in 2002, she was a member of the Scientific Commission of the International Society of Criminology from 2006 to 2012.  In recent years she has been invited to lecture on her research by universities, learned societies and governments in Japan, Colombia, Norway, Uruguay, Sweden, USA, Turkey, Israel, Ireland, Scotland, Belgium and Spain.  In 2019 she was elected President of the Academy of Experimental Criminology.
Dr Barak Ariel is a Reader in Experimental Criminology and a Fellow of the Jerry Lee Centre of Experimental Criminology.  He has been teaching and supervising students on the Police Executive Course since 2009.  Dr Ariel is involved in evaluation research projects with a large number of criminal justice agencies around the world.  He is the Chair of the Division of Experimental Criminology and an Executive Board Member of the Division of Policing of the American Society of Criminology; and also the Chair of the Institute of Criminology's Ethics Committee.  Professor Ariel has published more than 100 papers in leading journals, on various topics, including body worn videos (BWCs), crime hotspot, police legitimacy, counterterrorism, deterrence and technology in policing.
Sir Denis O'Connor C.B.E QPM is a lecturer and advisor at the Institute of Criminology, Cambridge University and College Research Associate at Wolfson College.  He is an Independent Non-Executive Director of the Board of the College of Policing.  He was Her Majesty's Chief Inspector of Constabulary between 2009-12.  Prior to joining the Inspectorate in 2004, he was Chief Constable of Surrey between 2000 and 2004 where he led the piloting of the National Reassurance Policing Programme, the pre-cursor to Neighborhood Policing.
At the Inspectorate his team provided support to the Olympics Programme in testing the Olympic assurance process.  He introduced Value for Money profiles for all police forces in England and Wales in 2008/9 to assist comparisons to achieve greater efficiency and effectiveness during austerity.  This was followed by a series of studies to track police availability (2010) and the preparedness of police forces and authorities for the austerity spending period (2011, 2012); police relationships with the media and other parties (2011).  He also contributed to the Scarman Inquiry (1981, the Stephen Lawrence Inquiry (1999), and the Leveson Inquiry (2012).  He received the Queens Police Medal for distinguished service in 1996, CBE in 2002, and knighted in 2010.
Sir Denis has a Bachelor's degree in Education from Southampton University and an MSc in Social Policy from the Cranfield Institute of Technology.   In 2011 he was awarded a place in George Mason University's 'Evidence-Based Policing Hall of Fame'.  He received an Honorary Doctorate in Laws from Wolverhampton University in 2012.
Suzette Davenport QPM served for over 31 years in policing in five different forces.  Her service started with West Mercia Police and she retired as the Chief Constable of Gloucestershire in 2017.  In addition to her force roles Suzette was the police lead for Roads Policing during which time she established transparent and accountable governance arrangements for the National Driver Re-offending Scheme.  She remains the chair of the wholly owned stranding subsidiary, UKROEd as a non-executive director, qualifying as a Chartered Director in 2017.  She is a Fellow of the Cambridge Centre for Evidenced-Based Policing and an Honorary Fellow of the University of Gloucestershire. She holds an MBA.
Debbie Simpson QPM began her career in Bedfordshire Police in 1984 where she remained for the next 24 years working predominantly within the detective arena.  She transferred to Devon and Cornwall as Assistant Chief Constable for Crime and Operations before transferring to Dorset.  In 2012 she became Chief Constable until retiring in 2018.  Within Dorset, she led an ambitious collaboration programme alongside local and regional approaches to austerity, whilst building capability within the region as the Chief Constable lead for serious and organised crime.  Debbie worked to transform how forensic services were provided across law enforcement; she also led the UK approach to Disaster Victim Identification for ten years and was responsible for overseeing many international deployments.  Debbie was a Co-Director for SPNAC, fast-track and direct entry and was also the Director for the Strategic Command Course for her final two years of service.  She holds an MBA and is an alumna of Wolfson College having attended the Wolfson Course in 1999.
Chris Sims O.B.E. QPM began his career in the Metropolitan Police in 1980 and was Chief Constable of Staffordshire Police before retiring as Chief Constable of West Midlands Police in 2016.  He led work in the fields of forensic science, counter terrorism and the national response to austerity.  At the West Midlands Police he constructed a transformation programme to reset policing delivery and introduce new technology that involved a unique relationship with the private sector.  He is currently Policing Advisor to the Home Office Biometrics Programme with a particular interest in Facial Recognition.  In 2013 he was awarded the Peel Medal for his contribution to evidence based policing.  He is a graduate of St Peters College Oxford and holds an MBA from Warwickshire University.
Dr Jacqueline Sebire is the Assistant Chief Constable for Joint Protective Services for Bedfordshire Hertfordshire and Cambridgeshire.  She oversees specialist operations, major crime and forensic services across the three counties.  The majority of her service was as a detective in homicide and serious crime investigations in the Metropolitan Police.  She was the senior investigating officer for a number of high profile cases including the 'Spy in the bag' case and the conviction of Britain's youngest hit man.
Jacqueline has a PhD in Forensic Psychology and has been a Visiting Scholar at the University of Cambridge since 2016.  She has published a number of articles in relation to domestic abuse and risk management and lectured nationally and internationally on her research.  She is a member of the European Union Cooperation in Science and Technology Working Group on Femicide prevention. She has also advised the Police Service of Trinidad and Tobago on best practice in Homicide Investigation.  In March 2019/2021 was invited to speak at the United Nations, New York, Commission on the Status of Women regarding community cohesion and women's access to justice.
Jacqueline is the National Police Chief's Council Serious Violence Co-ordinator and has worked extensively with the Government regarding legislation change, funding and multiagency prevention strategies.  Her primary focus has been the provision of support and opportunity for young people. Jacqueline has extensive media experience.  She has been a co-host of the TV series "Born to Kill; A Class of Their Own" and is the Bedfordshire Police lead for Garden Productions' "24 hours in Police Custody" series.
David Shaw QPM was a police officer for 36 years starting in West Midlands Police.  He served in a wide variety of roles culminating in the rank of Assistant Chief Constable responsible for Crime and Counter Terrorism.  In 2008 he transferred to West Mercia Police as Deputy Chief Constable and concluded his police service after 5 years as Chief Constable.
David held two national policing roles: Conflict Management which included public order, police use of firearms, non-lethal weapons, mounted, dogs and police use of force and was the lead for Fingerprints and Forensic Databases.  He now acts as a consultant to the Home Office supporting police technology programmes and innovation and is an Associate of CityForum which specialises in public policy and in particular policing, justice and security.  These roles enables him to remain very current and complement his role as a Cambridge MSt supervisor.
Dr Sara Valdebenito Sara's current research focuses on risk assessment algorithms and their implementation within operational settings.  During the last three years she taught quantitative methods at the Institute of Criminology and the Social Sciences Research Programme at Cambridge.
The Impact of MSt Research
Research undertaken by MSt in Applied Criminology and Police Management students demonstrates that just 15-minutes a day on foot patrol reduces serious violence in crime 'hot spots'.

Bedford Police: Bland, M., Leggetter, M. Cestaro, D., & Sebire, J. (2021) Fifteen Minutes per Day Keeps the Violence Away: a Crossover Randomised Controlled Trial on the Impact of Foot Patrols on Serious Violence in Large Hot Spot Areas. Cambridge Journal of Evidence-Based Policing, 5, p.93-118

Essex Police: Basford, L., Sims, C., Agar, I., Harinam, V., & Strang, H. (2021) Effects of One-a-Day Foot Patrols on Hot Spots of Serious Violence and Crime Harm: a Randomised Crossover Trial. Cambridge Journal of Evidence-Based Policing, 5, p.119-133