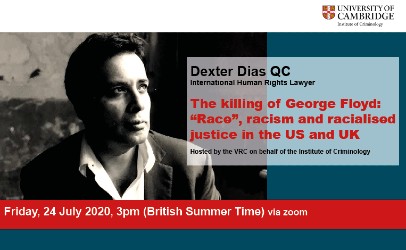 Please register in advance for this webinar:
https://zoom.us/webinar/register/WN_6yo6JnNYQRGAWCsc7zyhnA
After registering, you will receive a confirmation email containing information about how you can join the webinar.
---
Abstract: Why did the death of a Black man in Minnesota trigger demonstrations across the globe?  Human rights barrister Dexter Dias QC, who for 30 years has represented the families of BAME people killed in state custody in the UK, decodes the 'moment' by examining racialised justice in the UK and US across time and social space, showing how the production of "race" as a form of knowledge operates to enforce and justify ethno-racial domination. 
---
Biography: Dexter Dias QC is an award-winning international human rights lawyer who has acted in some of the highest profile cases in recent years involving freedom of expression, murder, crimes against humanity, terrorism, FGM and genocide.  He is an alumnus of the Institute of Criminology, where he remains a Visiting Scholar, and was recently a Visiting Fellow at Harvard.  His internationally published bestselling book, 'The Ten Types of Human' is based on his research into the interface between human rights and human psychology.  He was chief author of a report to Parliament that helped change the law on FGM to better safeguard at-risk girls.  He is Special Adviser on human rights to UNICEF UK, and Chair of the Global Media Campaign to End FGM.  He is advising the UN on a massive social justice project around Sustainable Development Goal 5, Gender Equality, and is co-presenter and producer of the podcast The 100 Types of Human. Twitter: @DexterDiasQC
Date:
Friday, 24 July, 2020 -

15:00

to

16:00