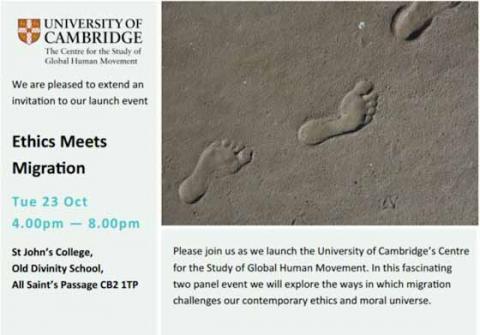 The launch of the University of Cambridge's Centre for the Study of Global Human Movement is on Tuesday 23rd of October 4-8pm.
Held as part of the Cambridge Festival of Ideas, in this 2 panel event 'Ethics Meets Migration', our distinguished panel members Lord Rowan Williams, Sir Stephen O'Brien, Professor Ben Bowling and Professor Alison Phipps come together to help us explore the ways in which migration challenges our ethics and the moral universe we live in today.
Held in the Old Divinity School, All Saint's Passage CB2 1TP.
For more information and booking, see the Festival of Ideas website.
Ethics Meets Migration
4 - 5.15pm
Introductions by University Vice-Chancellor, Stephen Toope and Head of the School of Humanities and Social Sciences, Professor Phil Allmendinger
Panel 1: Conflict, Refuge: Rethinking Humanitarianism
Why is migration such a challenge to our ethics today? Do we need to reconsider what principles we stand for and just how humanitarian we are prepared to be? Is it our moral duty to intervene before people are driven from their own countries as a result of conflict? Lord Rowan Williams and Sir Stephen O'Brien offer new perspectives on humanitarian values for a modern society.
5.45 - 7pm
Panel 2: Crimmigration versus Integration: People's Lives, People's Voices
What are the consequences of creating a hostile environment' and processes which criminalise migrants? Are there creative ways to engage with and integrate 'strangers'? Join Professor Ben Bowling and Professor Alison Phipps who challenge us to critically reflect on the criminalisation of migrant communities and to shift our thinking by listening to migrant voices.
7 - 8pm
Reception
Date:
Tuesday, 23 October, 2018 -

16:00

to

20:00