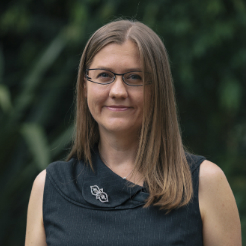 Dr Tara Renae McGee
School of Criminology and Criminal Justice, Griffith University.
Tara Renae McGee (PhD) is an Associate Professor at Griffith University, School of Criminology and Criminal Justice. Previously Dr McGee has been a DECRA Research Fellow (Australian Research Council, 2012-2015), worked at QUT School of Justice (2005-2010), been a British Academy Visiting Fellow (Institute of Criminology, Cambridge University, 2007-2008), and a Research Officer (Queensland Criminal Justice Commission 1997-2000). She has worked predominantly with the Mater University Study of Pregnancy (MUSP; funded by the Australian Research Council and Criminology Research Council) and the Cambridge Study in Delinquent Development, to examine the development of antisocial behaviour and offending across the life-course. Dr McGee co-founded the Division of Developmental Life-Course Criminology of the American Society of Criminology and will be taking up the role of Vice-Chair of the Division in 2019. She also co-founded and is co-editor of the Journal of Developmental Life-Course Criminology (published by Springer since 2015). Dr McGee is currently the President of the Australian and New Zealand Society of Criminology. Dr McGee has co-edited two books and authored or co-authored 52 book chapters, refereed papers and official publications. 
Situational influences on violent offending: an examination of short-term antisocial potential
While it is well established that situational factors can influence the commission of crime, very little attention is given to the criminal event in developmental and life-course criminology (DLC) scholarship. One attempt at explaining how both developmental and situational factors coalesce to generate crime, is Farrington's (2005) Integrated Cognitive Antisocial Potential (ICAP) theory. Within the ICAP theory, the key construct underlying offending is antisocial potential (AP), which refers to the potential to commit antisocial acts. This is divided into long-term (LT AP) and short-term (ST AP). LT AP is regularly studied in DLC but ST AP has received very little empirical attention. Using a case study of violent fights, we bring together longitudinal data to investigate both LT AP and ST AP using both quantitative data and detailed interview transcripts which describe violent fights. Data come from the Cambridge Study in Delinquent Development (CSDD) from when the men were aged 18. This seminar will present an examination of cognitive processes (decisions to start the fight); opportunities and victims (location, whether the opponent was alone or had a weapon); and short-term energizing factors (peer pressure, under the influence of alcohol, having a weapon, and being angry). These analyses will be further illuminated by analyses of the interview transcripts of men's own descriptions of the situational factors surrounding their most vicious fight.  
This seminar is open to all interested in attending, with no ticket required.
If you wish to be added to the seminar mailing list, please contact: reception@crim.cam.ac.uk
For directions: http://map.cam.ac.uk/
Date:
Thursday, 25 October, 2018 -

17:30

to

19:00
Event location:
B3, Institute of Criminology