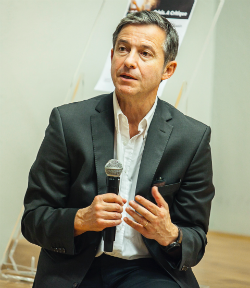 Photograph © Mario Llorca
Professor Didier Fassin
James D. Wolfensohn Professor of Social Science
Institute for Advanced Study, Princeton, USA
Didier Fassin is a social anthropologist. Trained as a physician in internal medicine and public health, he dedicated his early research to medical anthropology, focusing on the AIDS epidemic and global health. His more recent work is in the field of critical moral anthropology, and he is a leading figure in the recent 'moral turn' in social anthropology, which is attracting growing interest in criminology. His work explores the historical, social, and political signification of moral forms involved in everyday judgment and action, as well as in the making of national policies and international relations. His most recent ethnographies are of urban policing and the prison system in France.
'The Police Are the Punishment'
According to the legal definition of punishment, punishment is the infliction of pain to an offender in response to an offence against legal rules that is intentionally imposed by a legal authority, acting in an appropriate role. However, H. L. A. Hart, who proposed the clearest version of this definition, also cautioned about the danger of using a definitional stop to exclude a critical reflection on the actual practices of punishment. In the same way as Malcolm Feeley showed how the judicial process was part and parcel of retribution, this lecture will discuss the work of law enforcement as a form of extra-judicial punishment targeting specific populations and territories.
This seminar is open to all interested in attending, with no ticket required.
If you wish to be added to the seminar mailing list, please contact: reception@crim.cam.ac.uk
For directions, please visit: here
Date:
Thursday, 1 November, 2018 -

17:30

to

19:00
Event location:
B3, Institute of Criminology