Following the recent publication of their new book, 'Life Imprisonment from Young Adulthood: Adaptation, Identity and Time', Professor Ben Crewe, Dr Susie Hulley, and Dr Serena Wright recently took part in a Q&A Session hosted by Professor Alison Liebling from the Prison Research Centre.
In their new book they have analysed the experiences of male and female prisoners sentenced when young to very long life sentences (minimum terms of fifteen years or more). Based on a major ESRC-funded study, including almost 150 interviews with men and women at various sentence stages and over 300 surveys, the book explores the ways that long-term prisoners respond to their convictions, adapt to the various challenges of prolonged confinement, and re-construct their lives within and beyond the prison. Focusing on such matters as personal identity, relationships with family and friends, and the management of time, the book argues that long-term imprisonment entails a profound confrontation with the self. It provides detailed insight into how such prisoners deal with the everyday burdens of their situation, their feelings of injustice, anger and shame, and the need to find some form of hope, control and meaning in their lives. In doing so, it exposes the nature and consequences of the life-changing terms of imprisonment that have become increasingly common in recent years.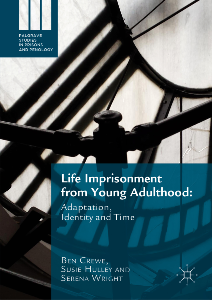 The recording of the book launch Q&A Session can be viewed here.