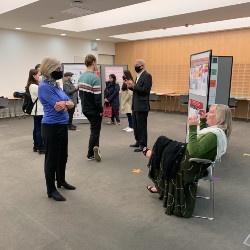 On Friday 9 October, bringing to a close the new students Induction week, the Institute hosted its annual Criminology Day.
This year the Institute hosted a socially distanced exhibition of Criminology Research and Project Posters from the Institute's Research Centres, staff and current PhD students.  New and current members of the Institute had an opportunity to meet together and talk about the many areas of research being carried by the Institute. 
There were posters on display from :
Joint Enterprise and Serious Violence Study
Targeting Domestic Abuse with Police Data
Volume Crime Solvability
Life Imprisonment from Young Adulthood
Crime and its Explanation
Violence Research Centre: Crime Networks, Illegal Governance and Communities; COVID-19, Legitimacy and Counter-terrorism Policing; COVID-19 Crime, EBLS, z-proso; Youth Violence, Mental Health, Bullying
The Centre for the Study of Global Human Movement
Shared Reading Project
Crime Trajectories
Social Disadvantages
PADS+ study
Drawing Connections ...at the edges
Further information on the research being undertaken by members of the Institute can be found on the Research Centres webpages, and on the Institute's Publication webpages.