Understanding and addressing violence against women as a public health problem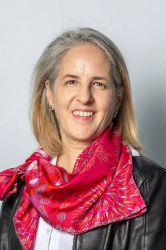 Dr Claudia García-Moreno
Senior Medical Officer and Team Leader,
Department of Reproductive Health and Research, World Health Organization
Understanding and addressing violence against women as a public health problem
The presentation will cover a brief overview of the magnitude and consequences (health, social and economic) of violence against women, with a focus on intimate partner violence and sexual violence.  It will review factors that contribute to its high prevalence or conversely are protective.  Dr García–Moreno will summarize the most up to date evidence on interventions for prevention as well as health-based interventions and WHO guidelines and tools for a health sector response.  Lastly, she will discuss the opportunities for making progress to address violence against women provided by social movements such as #metoo and the Sustainable Development Goals (SDGs).
Claudia García-Moreno is a physician from Mexico, with an MSc in Community Medicine from the London School of Hygiene and Tropical Medicine.  She has worked extensively in public health and global health policy, with a focus on women's health, sexual and reproductive health and HIV/AIDS.  She leads WHO's work on violence against women, based in the Department of Reproductive Health and Research.  She coordinated the WHO Multi-Country Study on Women's Health and Domestic Violence and the global and regional estimates on intimate partner violence and sexual violence against women.  She is founder and past Chair of the Sexual Violence Research Initiative, co-chair of the Working Group on Violence against Women of the International Federation of Obstetricians-Gynaecologists (FIGO), and Chair of the Independent Advisory Board of DFID's research initiative, 'What Works to prevent violence against women and girls?'
These seminars are open to all interested in attending, with no ticket required
For further information contact:
Faith Payne, PA to the Director of the Institute of Criminology
01223 (3)35369 / director@crim.cam.ac.uk
For directions: http://map.cam.ac.uk/
Date:
Thursday, 23 May, 2019 -

17:00

to

18:45
Contact name:
Faith Payne, PA to the Director of the Institute of Criminology
Event location:
Seminar Room, Institute of Criminology